How to pack for a long trip? I'm sure many of you had that question at one point in time. Whether you already went on a long trip and weren't sure what to bring, or if you're planning a long vacation and are wondering what you should pack to have all you need while not bringing too much, I'm sure you asked yourself that question.
When you're leaving for a week in Mexico, you pack seven days worth of t-shirts, shorts, underwear, a few bathing suits, shoes, sandals, and some casual clothes for the evenings.
When you're leaving for a cruise, you pack all of the above, plus some formal wear.
But how do you pack for a long trip?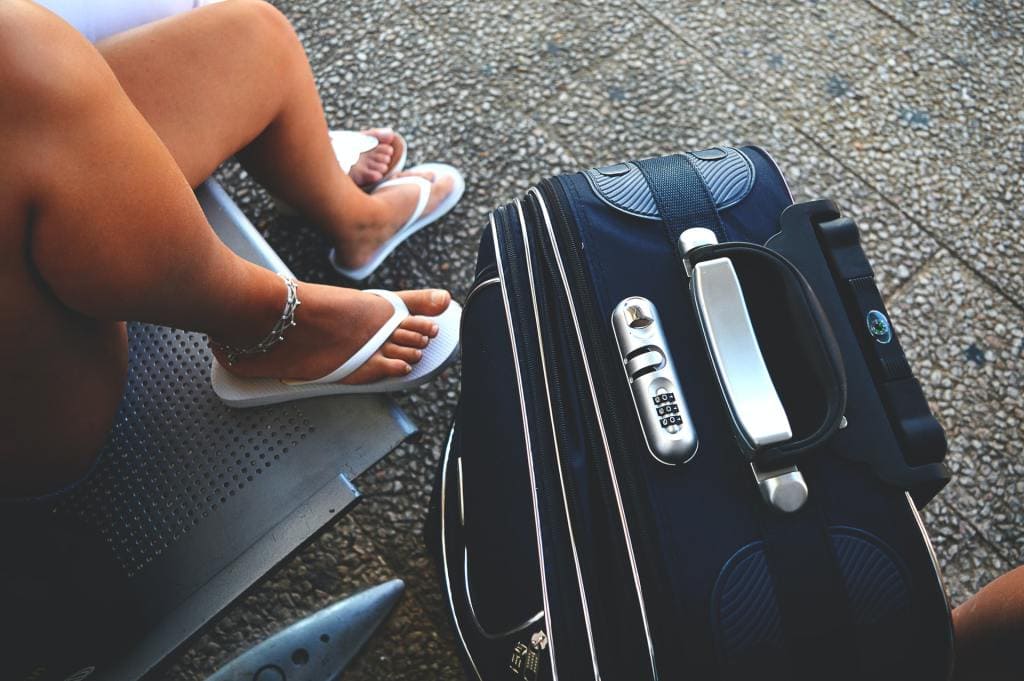 Let's assume for this post that you decided to bring a backpack, and not a suitcase.
Here are my tips:
Don't bring a bigger backpack than what you really need.
The more space you have to fill, the more stuff you'll fill it with... and it'll probably be stuff that you probably will not need anyways. I would leave a little extra space for souvenirs though and a dirty clothes bag. Those always seem to take up more space than they need to.
Put everything you want to bring on your bed. Then remove half of it.
Seriously. At first, we think that we will need a lot of things. But get everything out, forget about it for a few hours or a day, and then have another look at what you put on your bed. I know for a fact that I always tend to bring too much. When I left for a month in Europe, I initially brought two pairs of jeans. Two pairs, for a month. Reasonable, right? One pair was your typical Wrangle style denim jean and the other was a pair of Teflon-coated cargo pants/BDUs from 5.11
Turns out I never ended up going any place where the Wrangler jeans were needed. The cargo/BDU pants were sufficient for every dining establishment I went to and (most importantly) when I did spill something on them, they cleaned up almost instantly with a handful of water! Great fix when you're flying!
To do or not to do laundry, that is the question
Clean clothes not only smell good but you feel good wearing them, especially your undergarments. On my last long vacation, I planned a multi-day stay in a hotel that had laundry service. It cost me around $8, but I had all my laundry washed, dried, folded, and back to me the same day.
Another trick I used because it was handy at the time, was I was phasing out an older style of sock for a new style, so when I finished with the one of the old style, I simply tossed it. Sure I had to pack more socks than I would have otherwise, but this allowed me to have more room for memories and souvenirs as the trip progressed.
When it comes to t-shirts for a trip, I usually have one VERY comfortable one for the plane that I'll usually wear on the way there and back. Then I pack enough shirts so I'm not re-wearing the same one in the same leg of the trip. Plus, what's better than a souvenir t-shirt? Especially since you can wear it during your trip! Plus it helps to know where you're going. The last time I went to the Mr. Olympia competition and fitness expo, I only packed enough shirts to get me to the expo full knowing that I'd walk away with at least 10 free vendor shirts that first day.
Worst case scenario, Walmart is world-wide and you can always go to the local department stores or clothing shops in most countries.
If people notice that you always wear the same shirts while looking at your pictures afterwards, well, good for them!
Bring clothes that dry easily
This is why I love my BDU pants for traveling (or even day-to-day life). They dry fast. The last thing you want to do is to put away damp clothes. Not only will the smell and stink up the rest of your luggage but if you forget about them for a while... well "ick" comes to mind.
So bring clothes that dry quickly. If you're going to a warm place, don't bring "heavy" t-shirts or ones with lots of non-breathable designs on them. Bring your lighter ones. They will dry quickly and you will be more comfortable during hot temperatures.
To wrap up the clothes, don't bring too much. Plan on doing laundry and it's OK to wear the same outfit more than once. If you're going somewhere warm, don't bring warm clothes. One pair of pants, one lightweight jacket that can double as a windbreaker and a raincoat, and you should be good. Bring with you stuff you like to wear, that are comfortable and dry quickly.
Prepare for the activities you want to do
If you're going mountain climbing, gloves are a good thing to have. If you're planning on lounging on the beach and reading a book... gloves are a waste.
Bring flip-flops that can get wet, a pair of casual slip-on shoes or sandals and some good sturdy shoes. Flip-flops are great to have for the shower, not only for your safety but also to reduce the potential of catching any athlete's foot your party may develop.
Slip-on casual shoes are great for airport security and for long trips... especially if your body swells up from pressure changes or too many salty snacks on the plane!
For a good all-around everyday shoe, I rely on my hiking boots. They clean up easily, can be shined for a night out and provide more than ample support if that leisurely stroll down the main street connects to a trail that looks like fun. Pro-tip: you'll want ample support if you go to Edinburgh. The streets there are very rough and it's easy to twist an ankle if you're not careful.
Bring a fast-drying towel
I like to pack a fast-drying towel. Sure my accommodation will have towels, but you can't take them out to the beach or if you go visit a local gym for a workout. Plus if large enough, they could be a make-shift blanket for those overnight flights.
Stay organized with plastic bags or packing cubes
One way to maximize the amount of space in your luggage is to keep things organized. I find that using plastic bags really helps. Not only will it keep your clothes, electronics, chargers, etc. all in one group but it will help keep the clean clothes safe from dirty shoes or your dirty laundry! I always pack extra quart-sized bags for those TSA lines, just in case mine breaks mid-trip.
Bring a flashlight
I like to keep a flashlight with me. They're very handy to have at night when walking about in unfamiliar places and they're a great alternative to turning on a light and waking your partner if you need to use the restroom in the middle of the night. Not to mention that if there is a night-time power outage they really come in handy then! I like to carry them with me on planes and during the day. I prefer the lights with the hard beveled edges often referred to as "security flashlights" because they can be used in a last-ditch self-defense scenario, should you have no other options than to engage at close quarters.
Watch the personal care products
I try to stick with the basics. Deoderant, travel size toothpaste and shaving gel. You'd be surprised how long a 3oz tube of toothpaste will last! I'll also bring a trial size of moisturizer/body lotion because if you travel to a dryer climate (or on a plane) your skin will thank you. Tweezers, nail clippers, nail file and a comb round out the list of the essentials.
I've yet to see a hotel that didn't supply soap or shampoo, so there is no sense in packing those. If you need anything else, most places you'll go will have stores where you can buy things. One of my razors broke during a flight once and I needed to buy a new one in the town in England I was staying at. It was very interesting to see the brands they had there and the different names for the products. Not to mention it was fun to pick up some local snacks too!
Conclusion
Don't bring more than what you really need. It's easier said than done, but try and learn from past trips. Don't bring something just because you might want to wear it one day. Bring it because it is practical and because you like wearing it. If you rarely wear something at home, chances are you won't on vacation either.