Traveling can be a great experience, full of great memories and fun times. But it can also be problematic if you don't have everything you need with you. I do a lot of overseas pleasure travel and I've done a lot of travel around the US for work over the years.
Regardless if you're traveling for work or for play, here is a list of low-cost travel accessories that will help you travel smart, stay organized and maximize your enjoyment.
Our Top 10 Recommended Accessories
#1 A Secret Stash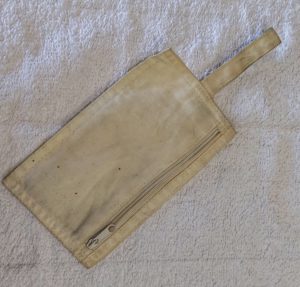 This is especially useful when traveling internationally, but also great for domestic travel. A secret stash is a place where you can hide the bulk of your money and any sensitive documents like a copy of your passport, driver's license, etc. Money belts are great for this. These are belts that have a hidden zipper on the inside of the belt and allow you to store smaller items like money in them. Another option is a money pouch. These are zippered pouches that have a loop on them. Your belt goes through the loop and the pouch tucks securely inside your waistband. Just make sure to get a pouch that matches your belt. Nothing says "hey I have a money pouch" like a white loop on a black belt.
#2 Organizer for Electronics
Having a zippered hard shell pouch to store your tablets, ebook readers, GPS units, etc. is a great way to not only keep them safe when traveling but also to make them accessible for TSA inspections. As someone who was once stopped because my electronics were too "haphazardly packed" in my luggage, these can be the difference between walking through a security line and having your bag inspected. You can even use these to store backup batteries or the next accessory....
#3 Powerbanks and Portable Chargers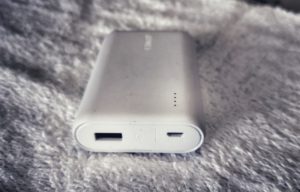 Powerbanks are great things to have just in everyday life. I usually keep one in the car and one in my hiking bags (along with the proper USB cable to connect to my phone). Powerbanks, for those that aren't familiar with them, are devices with rechargeable batteries built into them that allow you to power your phones, tablets, and even laptops on the go. They are common enough now that companies give them away at conferences and you can buy them, often for under $20, at most big box stores and of course on Amazon. Anker is a well-respected brand that I personally use. These are great to have to keep your phone powered when out and about making memories.
Portable chargers are great too. These are devices that can plug into a wall outlet or a car's power adapter and have a way to charge one or multiple devices. Unlike a power bank, these require some form of external power. These are great to top off your phones at the airport or to power your GPS in the car.
#4 Packing Cubes
These are an ingenious creation and a lifesaver for those traveling and living out of a suitcase. These are lightweight nylon zippered pouches that can help you store your clothes (and keep them away from your dirty clothes) in an orderly fashion. They also make for good ways to pack souvenirs and they won't add much weight to your bag.
#5 Toiletry Kit
While this may seem like a no-brainer, a well-packed kit can save you quite the headache. I like ones with multiple pouches, so you can separate your liquids from the rest of your gear. As someone who has had to travel locally for work and has left a toiletry bag in the trunk of a car on a 100 degree plus day... getting to the hotel after a long day and finding your shampoo or shaving cream overheated and exploded all over your toothbrush, shaver and other toiletries is not a fun way to start a night.
In addition to the standard items you can pack in these, such as your toothbrush, toothpaste, deodorants, combs, soaps, shaving kits, etc. it's also great to pack some basic medicines, some sleep aids, tweezers, and an assortment of bandages. Whether I'm staying at a hotel or at a vacation rental, I always like to be as self-sufficient as possible.
#6 An Eye Mask
I've traveled a lot over the years, through Central and North America, through Europe, slept on a plane, slept on a train, and even a few cruise ships. The one thing they all had in common was, you can never be sure they'll be dark enough to sleep in! That's why an eye mask is important to travel with, even if only for emergencies. Personally, I like the variety that have a bump-out for the eyes and for the nose. Those tend to be more comfortable in my experience. These go hand in hand with my next recommendation....
#7 A Travel Pillow
If you are going to try to sleep on a plane, a travel pillow can certainly come in handy. The best thing to do is to buy one well ahead of your trip and to test it out at home in your least comfortable chair (because no one ever accused the airline industry of having comfortable seats in coach). I like smaller ones that can have a normal pillow shape, personally. These I like to take with me just in case there is an issue with the pillow at the hotel and I find they're also good to keep in your car just in case your ride breaks down somewhere. A lightweight blanket is also a good thing to have.
#8 A Shoe Bag and a Dirty Laundry Bag
What do shoes and used underwear have in common? They're both dirty and not things you want touching your clean clothes! To that end packing your shoes (if you bring more than one pair) and your dirties in a bag will help keep your clean clothes clean. You can buy some nice drawstring ones, or you can do what I do and use a shopping bag for the shoes and a trash bag for my dirties. Just get the unscented ones, otherwise your clothes will smell.
#9 A Travel Umbrella
It's always a good move to check out the weather before you travel and for shorter trips, the 7-day forecast may be enough to cover you, however, I always like to plan for the unexpected. Sometimes the weather app may leave off the fact that there is a brief rain shower that usually happens mid-afternoon or you may be traveling somewhere where the weather is less predictable or you could be going for a longer trip than the forecast is good for. To those ends, having a good travel umbrella is key. They make them small and lightweight enough now that putting one in your day bag or suitcase won't weigh you down too much.
#10 Power Converters, Surge Protectors, and Mini-Extension Cords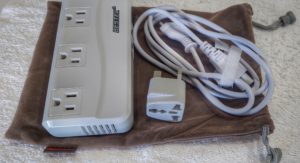 Ok, so I've saved what I consider the best accessory for last. This is how to power your gadgets at the office or in the hotel. When traveling internationally, having a power adapter is an absolute MUST! These allow you to use your electronic plugs in outlets not designed for them. There are a variety of these and they range from a simple converter to more elaborate ones that have built-in surge protectors and do some built-in power regulation. When traveling domestically for work, I always carried a mini power strip with me. This was like a six-strip surge protector that you see at any hardware store, but it only had two or three outlets on it and only a couple-foot cord. They are small, lightweight, and meant to plug into the one desk outlet not taken up by lamps and give you some extra outlets. This was a great thing to have when traveling for work too. I'd take it into the office as well as the hotel and be able to power up my laptop and my phones with ease. Lastly, a mini-extension cord. They sell one-foot-long power extension cords. They are great to have for when you have a power "brick" adapter that you need to plugin, that would otherwise take up the space of multiple outlets. A lot of people use these with their home computer setups. They are great to give you that extra space you need for plugging in devices when traveling.
Bonus: Top 2 Travel Tips!
Now that I've given you the top 10 accessories, here are my top travel tips.
#1 Use a Backpack
If you've ever had to run (and I do mean run) across a major airport like Chicago O'Hare or DC's Dulles airport in 15 minutes to catch your connecting flight, you know the pain of dragging a carry-on with you... and you probably have the bruises to show for it. One of the best tips I learned was to use a backpack instead of a traditional rolling carry-on. With a backpack (which you may already be wearing for your laptop, if you're a business traveler), it's on you and a part of you. It's far easier to navigate through crowds and you don't have to run over people... or worse yet have to pick up and carry an awkward suitcase.
I use a backpacking day-pack for my bag. It's big enough to fit in an overhead compartment, on all but the seven-row "puddle jumpers", and it can hold everything I need for a flight... or even a trip.
#2 Don't Check Luggage
Yes, you heard me right. Don't check any bags. When I travel, especially for work, I'll use the above-mentioned day-pack as my suitcase! It makes it really easy to travel and you won't have to wait (sometimes 30 minutes or more) for your luggage. After an early morning and a long flight, the last thing you want is a boring delay when you're fighting to stay awake. I've had bags get on the wrong flight before, especially when the second leg of a flight gets rescheduled or canceled. I've had bags show up a day or even two days later. Why worry about that if you don't have to? Why wait around for a bag that isn't there, then have to deal with the lost luggage counter... which is NEVER empty or quick.
When I travel with a group for holiday, then our group will usually check an empty suitcase so we have something to put dirty clothes in and larger souvenirs. If that doesn't show up on the way to the vacation, it's not a big loss because it's empty. If it gets delayed on the way home, then most of the items in it are typically not things you'll immediately need and you're back home where you can easily get more supplies if needed.
#3 Ship Larger Items
This may sound silly, especially if you have a large checked suitcase, but many stores have the ability to ship your purchases to you for a reasonable cost. When I was touring Scotland and Ireland, many of the distilleries there had special rates for shipping, especially for their distillery-only items, and could take care of that for you at the purchase counter. That saves you from having to pack and worry about that bottle making it home in one piece in your luggage... or not being nicked by the baggage inspectors.
#4 Get Travel Insurance
Traveling is mostly problem-free, until it isn't. You can plan things well in advance, you can find direct flights only, but what happens when at the last minute a global pandemic happens or a hurricane threatens your destination and you all of a sudden can't get into the country you were planning on visiting? What happens when a city within your country bans travel? What happens when you get sick and have to cancel?
Sure you can throw yourself at the mercy of the hotel or vacation rental host, the airline, the rental car company, the entertainment venues, and hope you get a refund... but there is no guarantee of that happening. This is where travel insurance comes in VERY handy. They will reimburse you your money (subject to plan terms and conditions, of course) and the proprietor will not lose the income they were counting on either, so it's a win-win situation for everyone.