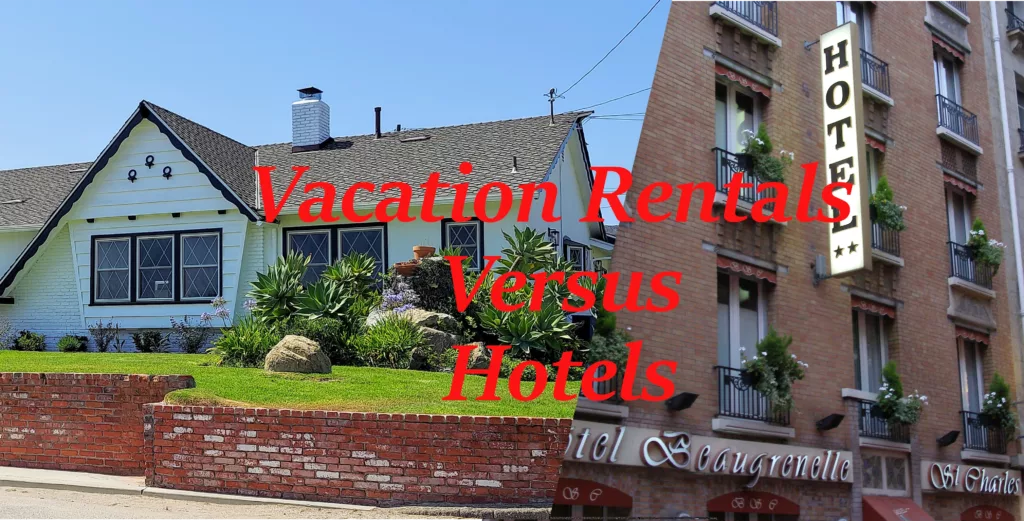 What are the benefits of renting a vacation rental vs a hotel room?
I've traveled around the world for work and pleasure and I've stayed at a variety of hotels, resorts and short-term/vacation rentals. Each has its own charm and use case. Below I will lay out why I think short-term/vacation rentals are the way to go and why ours are the best!
Why Vacation Rentals and Short-Term Rentals are the Best Way to Travel
Like myself, many people love to rent a home as opposed to a hotel room. The advantages of staying in a vacation rental instead of a hotel seem obvious – greater space, a kitchen to cook in and saving money. Here are some of the reasons why I rent vacation homes.
You Can Save Money, Sometimes a Lot of it!
The biggest reason people like to stay in short-term rentals over hotels is cost. If you're traveling with a large family, or a group of couples, you are likely to need more than one hotel room. Many of our guests have been 3-4 families staying together for an event and that many hotel rooms adds up quickly! With a short-term or vacation rental, each family could have their own room while still having access to the rest of the house. In addition to being able to fit everyone under one roof, renting a home also provides you with a kitchen and laundry facilities and who likes packing dirty laundry?
You can also save money by buying and cooking your own food. For many travelers, especially those with specific dietary restrictions like Paleo, Gluten Free, Atkins, Vegan, etc., being able to cook "at home" is the main reason to choose a vacation rental. It's can be fun to shop at local grocery stores and farmer's markets and you get to spend more of your travel money on sightseeing instead of dining out.
Privacy Abounds
While hotels will often have a lounge or dining area and sometimes a pool or spa, all of these are very public places, usually on the ground floor and usually, half the hotel can overlook you tanning poolside... and you never know who's watching a little too closely. With a private residence, you have just that, privacy. If you want to gather around in your Pjs or wait until after breakfast to get rid of that "bed head" hair-do, no one is going to notice or complain. If you want to lounge out by the pool all day, you will mostly likely have the privacy to do so.
Some Hosts Are Wonderful
Many hosts of short-term rentals, like us, go out of their way to make their guest's stay as comfortable, relaxing, and pleasant as possible. If you're traveling from out of the country or even from another part of your country or state, a good host can be a great resource for learning about local culture and customs and events. While some hotels offer this, you'll likely only find this in your destination area hotels that have a concierge on staff.
If You've Seen One Hotel Room, You've Seen Them All
While there is something to be said for the cookie-cutter experience of a hotel room, it's the rare hotel room that has any style. With a vacation rental, you are not likely to find the same design or style twice and you have some really unique homes that you can stay at. Everything from cabins in the woods and treehouses, to French Normandy-inspired estates like our "The Resort" or Victorian era homes. Additionally, you can stay in your dream location. Regardless of if you desire a beachfront cottage, mountain getaway or downtown apartment close to everything, chances are you can find a vacation rental that suits you perfectly.
Convenience
There is a convenience factor with vacation rentals that is often overlooked. With a vacation rental, you have a "home base" to relax and recuperate from a day of sightseeing. If you feel under the weather, you have a nice comfortable place to rest and recover without the worries of being interrupted.
Another convenience of short-term rentals is that you only have to unpack once. You don't need to police your socks and lock up your toothbrush every day because a maid is coming in. With vacation rentals, there is typically no maid service unless you request it.
Choice of Amenities
Want a pool home, but don't want the hassle of owning and maintaining a pool? No problem! You can rent one! Want to see if you'll really use that firepit you're thinking of installing? Rent a home with one and see! Vacation Rentals are great because you can pick and choose the amenities you want. You can choose those that are a must-have, like a BBQ grill, or ones you've always wanted like a pool, Jacuzzi, fire pit, etc.
Hotels Aren't Always Great
We've all had bad experiences with hotels. I've been stuck with "the last room available" that happened to be next to the elevator, two down from the 24/7 ice machine, and looked out onto the busy street. That was a business trip to Maryland for me. I've also had hotel rooms in Paris that I practically had to walk on the bed to get from the window to the bathroom. If I could have rented a house for even double the price of that room, I would have. But it was in the center of Paris by the Opera. That brings me to another point about hotels. They are often in tourist destinations. Your Disneyland or Wine Tasting or Golf Club areas are going to have fancier hotels with the most amenities. However, that may not be where you want to travel to. Cities, the suburbs, remote lake areas are likely to not either not have a hotel or if there is one, it will be more for business travel than vacation travel.
Space, the final frontier... vacation rentals typically have more square feet per person than hotel rooms. This is especially important if you're traveling with a large group or another couple, as you'll likely have plenty of space if you select the right home. Best of all, it's all yours. You won't have to worry sharing one bathroom between the entire party or noisy neighbors.
Reviews Are Helpful
Prior guests have the ability to leave a review for the short-term rental you're thinking of staying at. This helps to give you a sense of not only the house but also of the host. Look for mentions of the host and better yet any mentions of issues that came up and how the host handled them. That can tell you a lot about the house you're renting. Also, hosts live and die by reviews and anything less than a 5 Star review is a failing grade for them, so they're often more keen on giving great service than a hotel, where they can have hundreds of guests a month and can easily weather a couple of bad reviews.