Things to do in and around Ventura County

There are a lot of fun activities you can do in and around Ventura County. We have many hiking trails with incredible views, including Malibu Creek State Park where MASH and Planet of the Apes were filmed! We have several winery tasting rooms and micro breweries. The local colleges have theater productions and there is even a wild animal training program at Moorpark College. Thousand Oaks, Moorpark, Simi Valley and Camarillo all have great golf courses, including the Sherwood Country Club Course where Tiger Woods holds his tournament.

Further west we have the beaches of Ventura, Oxnard and Malibu. From Ventura you can even catch a boat to the Anacapa islands, which is a great day trip. We also have Somis and Ojai with resorts and more golfing as well as Lake Piru which has boat rentals.

If you're looking for more of a land-based day trip, we have Santa Barbara to the north with it's beaches and University. We also have Carpenteria and Solvang. Solvang is billed as a "little slice of Denmark in Southern California." To the south we have Hollywood, it's movie studios and celebrity home tours.

If amusement parks are more your style, we are close to Magic Mountain, Disneyland, Knott's Berry Farm, Universal Studio and Lego Land. We even have the Queen Mary in Long Beach.

Local City Information

Here are some links to websites for some of our local attractions:

Channel Islands Harbor
Ventura City
Downtown Ventura

Ventura County Coast

Below is a map of the various parks and event centers within the Thousand Oaks area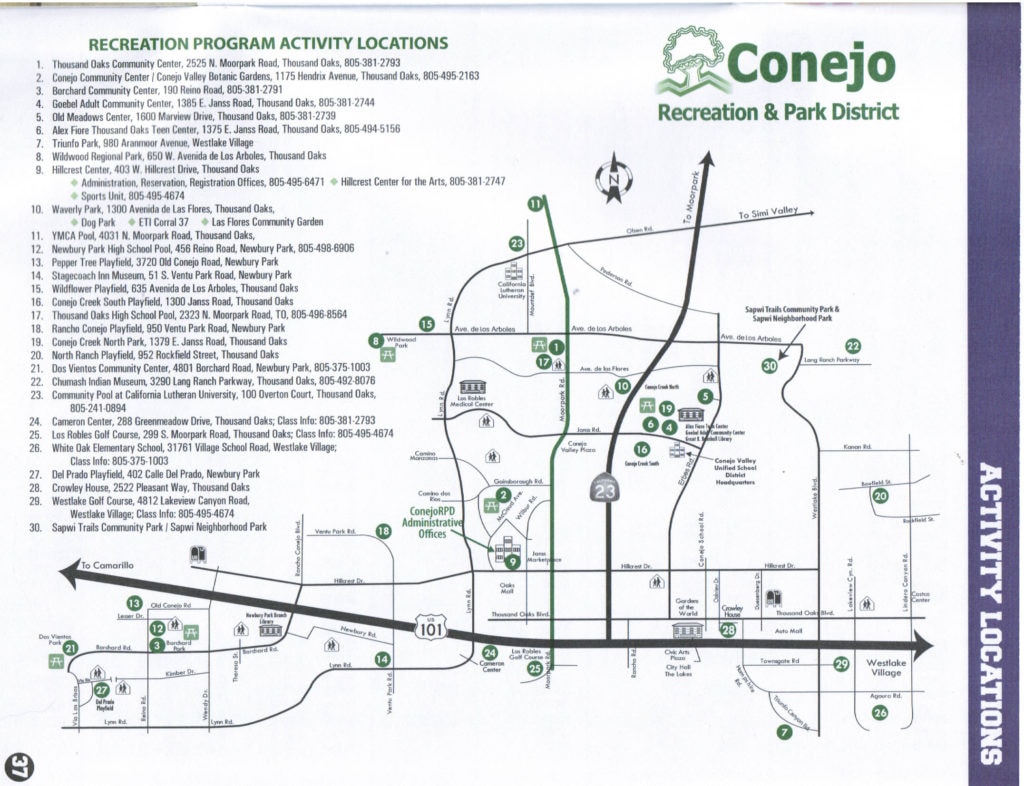 Hiking

There are MANY trails in and around Ventura County. Below are some links to various sites with trail maps and locations.
Conejo Valley Recreation and Parks District
Conejo Open Space Conservation Agency

Conejo.com
AllTrails.com

Conejo Valley Guide
When you go hiking here are a few things to remember:
Bring plenty of water and snacks. When the sun goes down the temperature can change drastically. If you start hiking near the end of the day, or think you may be out late, bring some warmer clothes and a flashlight. Have the
Ten Essentials
with you. Make sure your phone is charged and if you have a spare battery pack, bring it.
You should also have a "check-in buddy" someone who knows where you are hiking and when you plan to be back. I'm happy to be your buddy for this. Once you get back to your car, you call your buddy to let them know you're back. If your buddy doesn't hear from you, they can call for help. In California and specifically Ventura and Los Angeles Counties help is available through all-volunteer Search and Rescue teams (of which I used to be a part of) and it is 100% free. If you get injured or lost while hiking, help is a quick 911 call away. Out here we have the
Ventura County Search and Rescue Team
and the team I used to be a part of, Malibu Search and Rescue out of the Los Angeles County Sheriff's Department. They're both on-call 24x7 to help and do not charge for their services.
One of my favorite local trails is Wildwood Neighborhood Park. There are several trails here ranging from hour long easy hikes to strenuous day-long hikes that take you into two or three cities! Paradise Falls is a locally famous waterfall that people come from all over the area to get a photo in front of it.
Movies and Entertainment

There are several movie theaters as concert/entertainment venues in the area.
In the Thousand Oaks area alone you have four movie theaters:
The
AMC Dine-in
in the Oaks Mall, The
Janss Regal 9
in the Janss Mall,
Cineopolis
in the Westlake Promenade as well as the
Westlake Twin
(for artsy movies) in Westlake Village
For concerts and live entertainment there are several options as well:
There is the
Thousand Oaks Civic Arts Plaza
,
The Canyon Club
,
The Conejo Players Theater
, as well as several additional venues in Camarillo, Oxnard and Ventura. Further out you have the Santa Barbara Bowl, The Hollywood Bowl as well as the MANY theaters in Los Angeles City and the LA Opera.
The Ronald Reagan Presidential Library

Right on the border of Simi Valley and Thousand Oaks, high on a hilltop, sits the
Ronald Reagan Presidential Library
. The incredible facility not only features rotating specialty exhibits, but also has a permanent exhibit covering President Reagan and his term in office as well as his and Nancy's life before and after the Presidency. Part of this exhibit is his Air Force One and Marine One that you can walk through as well as a fighter jet, secret service vehicles and a piece of the Berlin Wall on display. The museum is also the resting place of President Ronald Reagan and First Lady Nancy Reagan. If you get hungry, there is a cafe onsite with dining that overlooks the city.
Activities
Thousand Oaks and Ventura County offers a variety of different activities. There is the
Stagecoach Inn Museum
right down the street from "The Resort" in Thousand Oaks, as well as the
SeaBee Museum
at the Naval Construction Battalion Base in Port Hueneme and the
Commemorative
Air Force
in Camarillo with a collection of WW2 planes to explore and even ride in! There are also two American Indian centers in Thousand Oaks and Chumash ruins to explore.
Thousand Oaks also has the
Conejo Valley Botanical Gardens
, which is open daily from sunrise to sunset and the "
Gardens of the World
."
The Janss Mall has "The Mighty Axe", a place where you can go throw axes and drink beer. The mall will also be getting an indoor MB2 go-kart track in the near future.
There are also horseback riding centers in and around Thousand Oaks that will take you down various local trails. We invite you to read the reviews of various centers on
Yelp
.
There is also a self-guided historic walking tour of Ventura. You can find out more in
our article on it here
.
There are also a lot of other limited time events such as car shows, fairs, festivals, shows and the like. A well maintained list of these events can be found
here
.
For those that would like to partake in a little gambling, there is the
Chumash Casino
a short drive away in Santa Ynez.
If you're looking for something unusual to do with the whole family, there is
The Underwood Family Farms
. The Underwood farms are situated on 50 acres of land in Moorpark right off of the 23 freeway at Tierra Rejada and has an animal center with a wide variety of animals on display from goats to donkeys and even Scottish Highland Coos! For those that want to elevate the "Farm to Table" dining experience, Underwood is best known for the ability to pick your own fruits and produce right out of the ground (or off the vine).
Horseback Riding

There are hundreds of miles of trails all around Ventura County. In Thousand Oaks we are lucky to have two horseback riding companies. About five minutes from The Resort, we have
Rancho Potrero Trail Rides
. They offer one hour guided horseback riding tours through the Rancho Sierra Vista National Park, Sycamore Canyon and the Satwiwa Native American Indian Cultural Center. The rides take you to vista points that allow stunning views of the ocean and the Channel Islands. Trail rides are offered on the weekends and reservations are required. For more information, check out their website at
https://ranchopotrerotrailrides.org/
For those looking for canyon and movie set trail rides, we also have "
Malibu Riders
". This company offers trail rides through Paramount Ranch in Agoura, Zuma Canyon in Malibu, and Malibu Creek State Park (home to where M*A*S*H, The Rifle Man, Daniel Boone, Doctor Dolittle, and where Planet of the Apes were filmed). Trail rides range from one hour to 90 minutes. For more information please see their website at
https://www.maliburiders.com/
Beaches
For those that like a little sand and sun in their vacation, we are super close to some world renowned beaches. From the beaches of Malibu, the site of many a TV show and photo shoot, to the beaches of Ventura, Carpenteria and Leo Carillo we have some of the most beautiful beaches and best surfing around!

Bring your dog with you, great! Some things to know about the beaches before you go:

State Beaches - No Dogs(Only on-leash at campground)
City Beaches - Allowed in park and on beach all- day on a leash. Clean-up after your pet.
County Beaches - Allowed on beach before 9am and after 5pm on- leash only. Clean-up after pet.

Planning a bonfire or to bring a drink with you? Check the beach rules before you go. LA County beaches do not allow alcohol on them, others do. Some do not allow fires, others do.

Golf Courses

Thousand Oaks, Camarillo and Ventura County in general have an ample supply of pristine golf courses, including the Lake Sherwood Country Club where the Tiger Woods Invitational is held.
For a listing of our local golf courses, as well as reviews from golfers, we invite you to check out the
Golf Now website
as well as the
Golf Link website
.
Dallas Cowboy's Training Camp

Every year America's Team, The Dallas Cowboys, come to Oxnard for training camp. They are here for a couple of months and the camp is open daily to the public. They practice twice a day and the opening ceremonies include a performance from the world renowned Dallas Cowboys Cheerleaders! Well worth the visit.

Wine Tasting

For those that enjoy an afternoon with a glass of wine in their hand, there are over a dozen local wine tasting rooms, the most popular one locally being
The Stonehaus
in Westlake Village. The California Winery Advisor website has a great listing of them
here
and Trip Advisor has reviews of them
here
. I also highly recommend checking out
this Groupon page
for discounts and specials (including souvenir glasses!).
One of the TOP local wine attractions is Malibu Wines. Not only are there
wine safari tours
, but there are
wine hikes
(which I have personally done). The hikes are guide lead and are on very easy trails... well except until your 6th or 7th glass of wine! Both of these give you wine, incredible panoramic views and let you interact with a wide variety of animals. There is also a
wine and beer garden
.